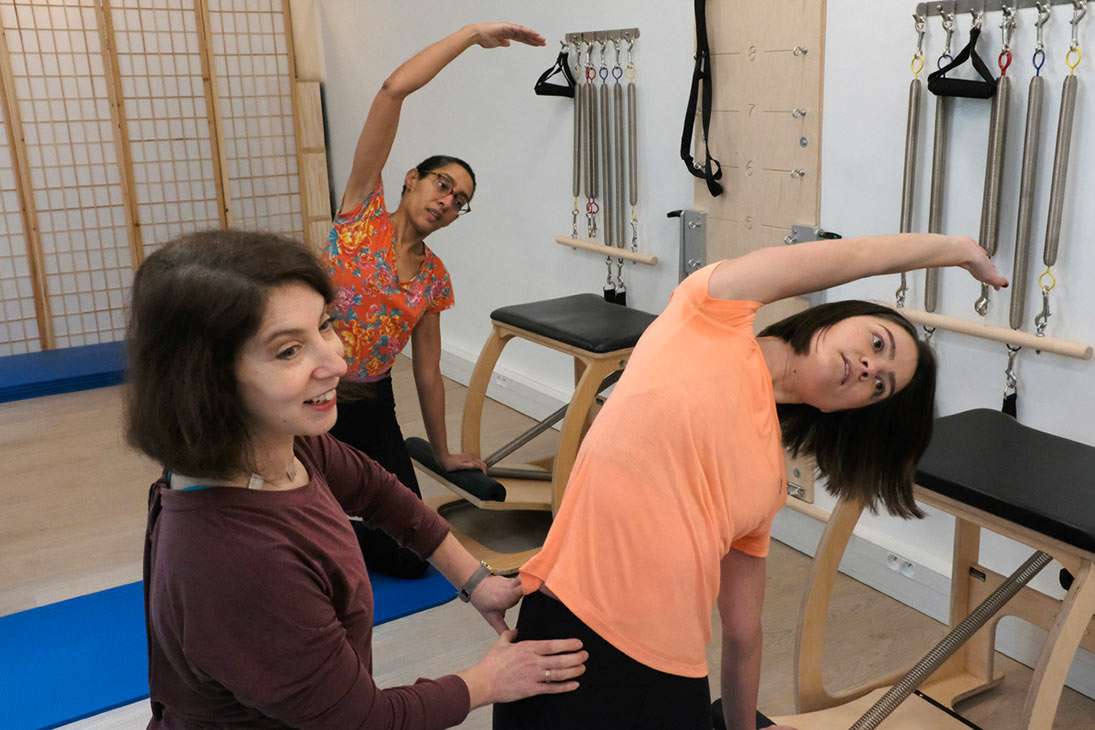 The Studio Re-opens!
June 10th is the day! I can't wait to see you, finally!
Sign up on-line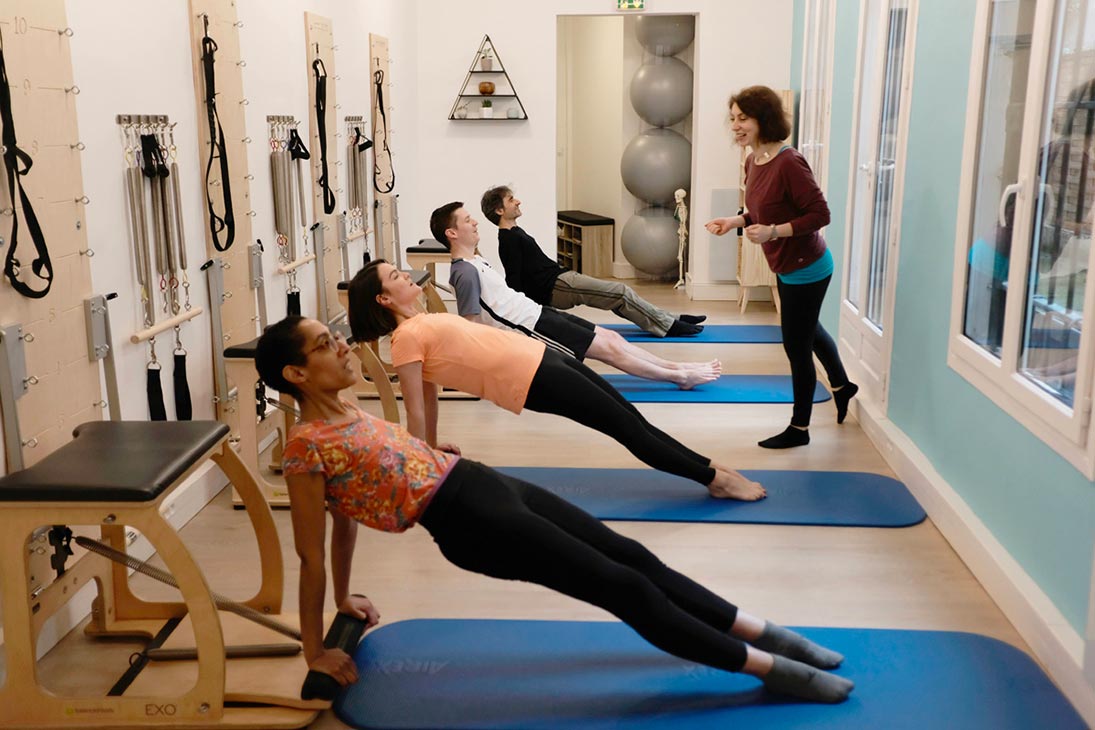 Pilates studio in Paris 2nd
Discover a Pilates studio in the heart of Paris, to practice in small groups as well as private classes on mat or machines.
Sign up on-line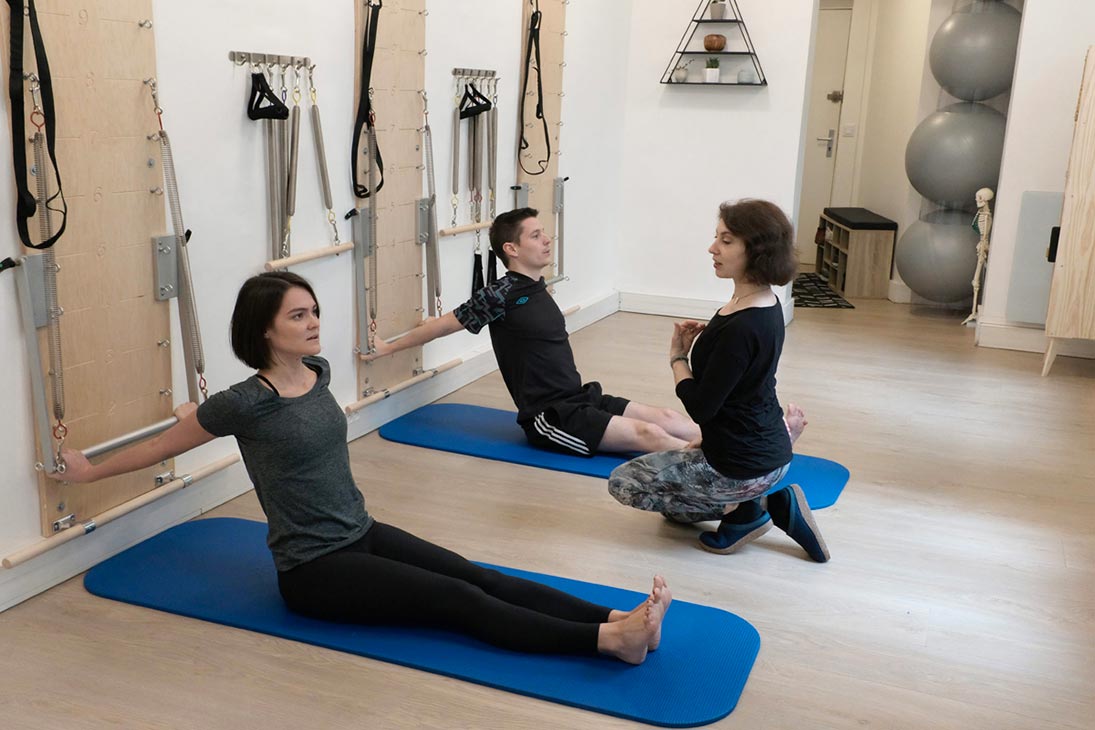 Equipment
Le studio est équipé de machines Balanced Body Pilates : SpringBoard et chaises, ainsi que tous les accessoires pour une pratique optimale du Pilates.
Sign up on-line
Pilates from Head to Toe
Looking for high quality, serious, fun Pilates in Paris?
Emily offers Pilates mat classes and small group Pilates equipment classes for all, as well as for pregnant and postnatal women. Private and duet lessons by appointment, all in central Paris!
Schedule
Live On-line Pilates Classes
Stay in shape. Stay positive. Stay connected. I'm offering live, on-line Pilates classes with the same quality and individual approach as in the studio with a maximum of 10 participants per class.
Monday on-line

9h30

beginner / intermediate


12h30

intermediate / advanced
Tuesday in studio
With a Doctor's prescription, Contact me for information
Thursday on-line

12h

intermediate / advanced


14h

beginner / intermediate
Friday on-line

9h30

intermediate / advanced


12h30

beginner / intermediate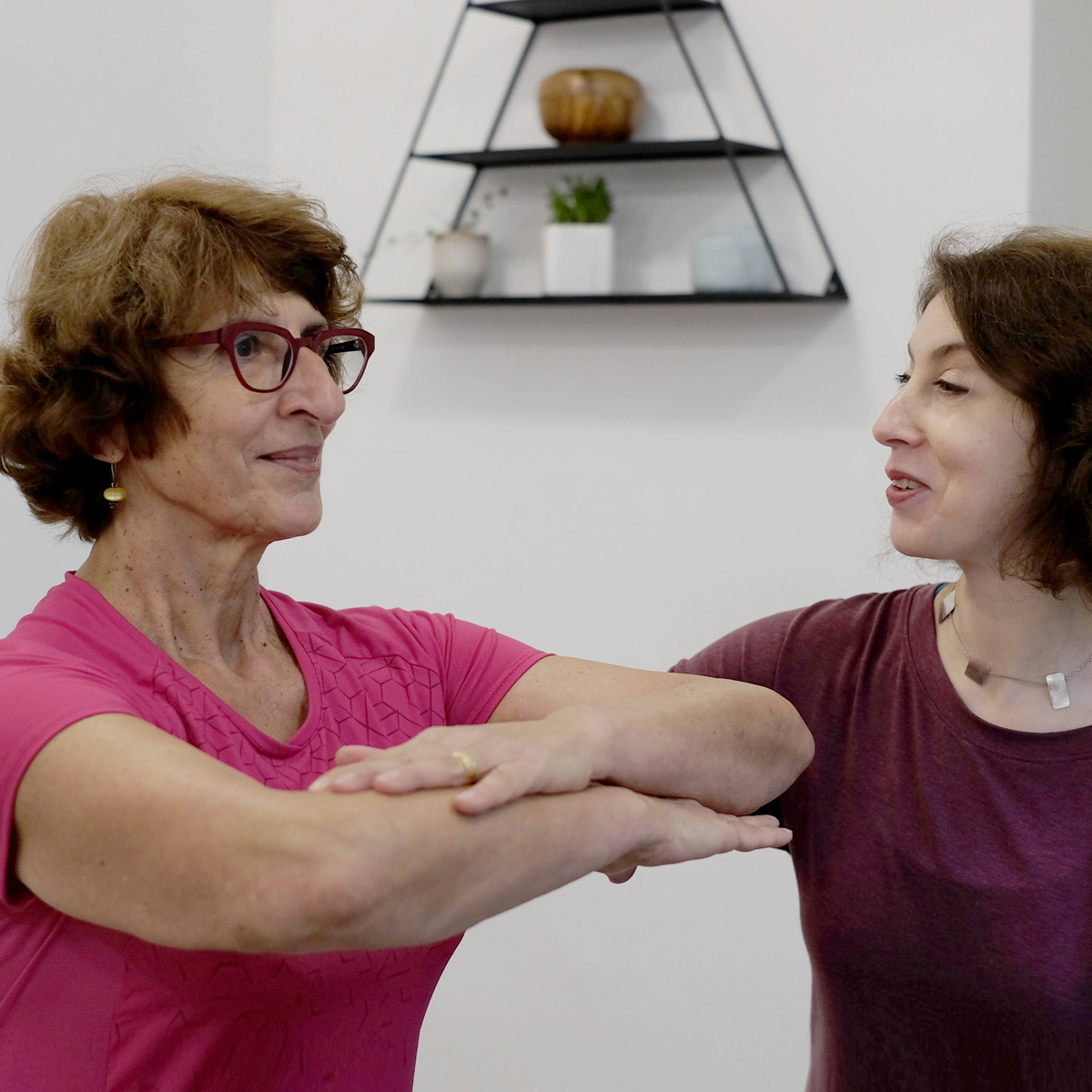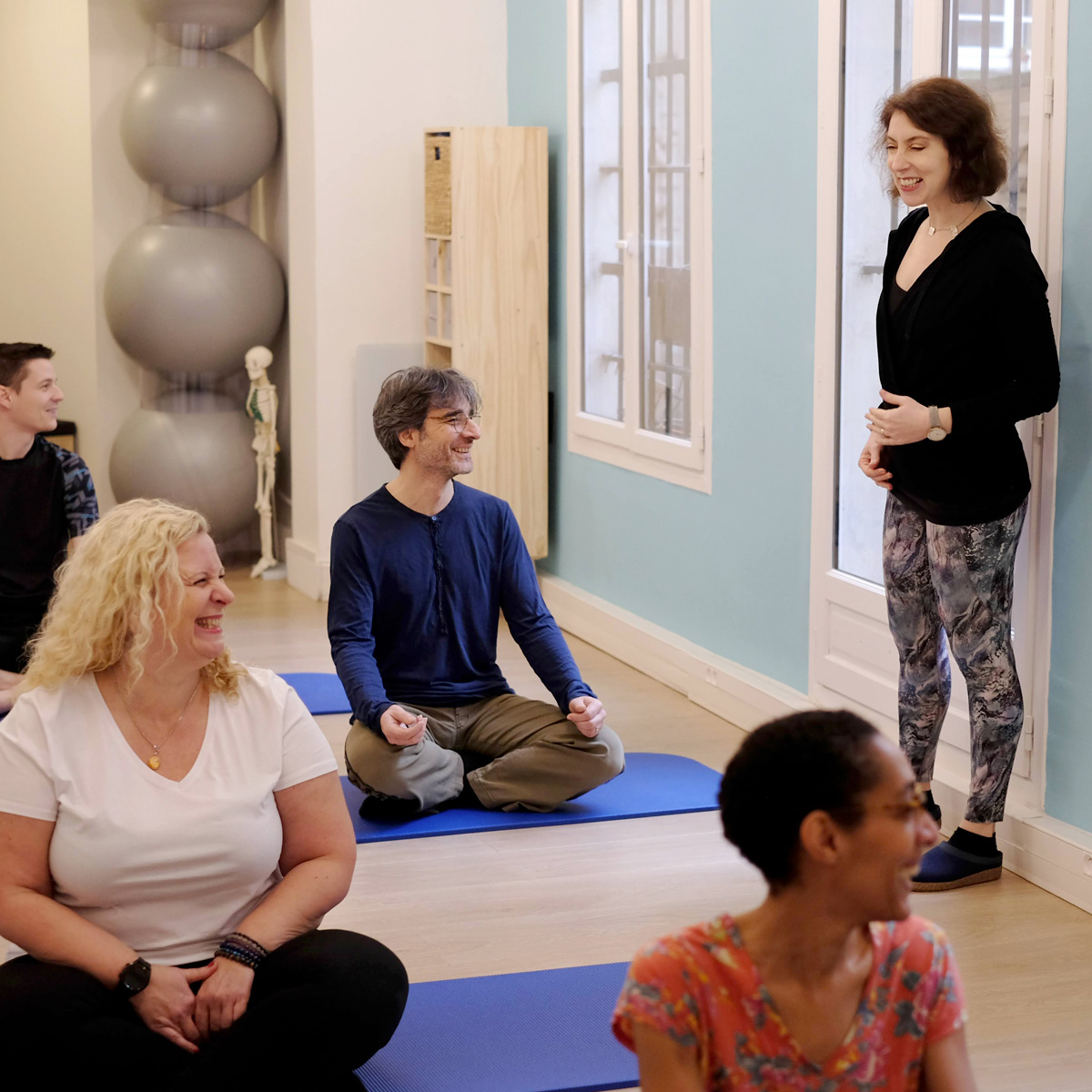 Sign up on-line
Rates
1 on-line class

22 €

before the class
10 on-line class pass

200 €

per pass
1 on-line prenatal class

28 €

before the class
5 on-line prenatal class pass

130 €

per pass
I also offer private and duet lessons on-line:
55 minute private session

70 €

before the class
55 minute duet session

38 €

per participant
Learn more
What is Pilates?
Pilates is an exercise method designed to decompress the spine, improve breath and circulation, and strengthen the entire body as a whole with a specific focus on the "core" abdominal muscles. Pilates can be done on mats or on equipment specifically designed by Joseph Pilates mainly the Reformer, the Wall Unit or Cadillac, and the Chair. Other smaller pieces of equipment and accessories such as Magic Circles, Fit Balls, Therabands and more can also be used. Emily teaches group classes on the mat with and without accessories and offers private and duet lessons on the mat and the equipment.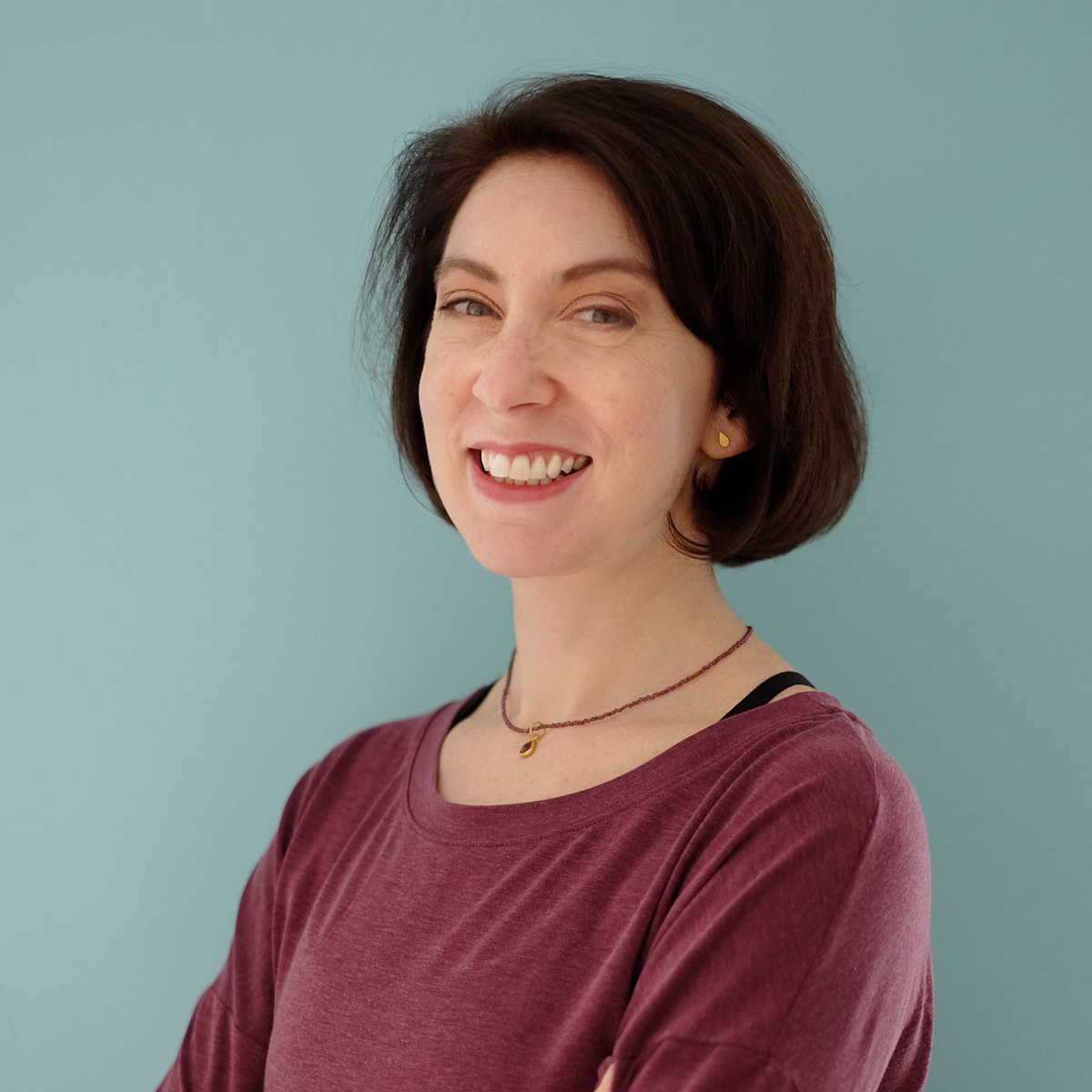 About
Who is Emily - Pilates from head to toe?
Emily is an American living in Paris since 1999, a mother and a former Internet Project Manager who
trained extensively
for her second career as a classical Pilates instructor. She has been teaching Pilates in Paris since 2010. Emily's goal as a Pilates instructor is to help each person feel more at home in his or her own body, to understand how it functions best and how to keep it strong and healthy for the long term. Emily loves teaching all kinds of people but has a special niche teaching
pregnant
and
post-natal women
.
Learn more
What is a session with Emily like?
Group classes are small with a maximum of 9 participants. Emily is warm and friendly and makes each person feel welcomed by her and in the group. Be it a group or a private session every session begins by checking in with each person's current physical and mental condition. Emily teaches from the classical Pilates repertoire and introduces new concepts and exercises progressively. Imagery, anatomical knowledge and hand usage for guidance are used as pedagogical tools for teaching each lesson. She makes you work hard and she usually gives
homework
: an exercise or an observation to do until the next class!
Emily is a member of The French Federation of Professional Pilates Practitioners (FPMP) and holds a CQP-ALS certification for teaching Pilates in France.
Testimonials
I have been practicing Pilates for 13 years with Emily. She is very attentive to our aches and adapts the exercises accordingly while remaining demanding. The atmosphere is very pleasant, which offers a relaxing break in a bright and calm space. Come and discover his courses that I highly recommend.
Emily is an excellent pilates teacher, gentle teacher and funny! She has several accessories in her room (ball, rubber bands, etc.) and machines (chairs, etc.). You can therefore access a multitude of different courses. I can't see myself practicing pilates anywhere other than here!
I highly recommend Emily's classes at Pilates de la tete aux pieds. Her training and years of experience are evident as she leads you through class with precise instructions and targeted corrections, no matter what your level. She will challenge you, but also brings a playful attitude to each session. It is an amazing workout in a beautiful space.
Practice Pilates at home
Train and workout at home with my videos and training exercises available on
my YouTube channel
and my website. Between live classes, train and master the Pilates movements.